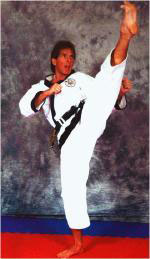 GRAND MASTER DUANE PITCHER-Owner and Head Instructor, Livonia:
On 12-1-1998 GM Pitcher and his wife, Master Valerie Watson, opened what is now World Class Institute of Martial Arts. 
32 years ago, Grand Master Pitcher began training in Tang Soo Do with his son Michael in a class that preached discipline, respect, self defense and leadership skills.  His other children, Aaron, Jeremy, Christie, and later TJ Norton, also began training around that time.  TJ (a 5th Degree Master Instructor), Michael (now a 4th Degree Master Instructor), Christie (a Kyo Sa Sam Dan), and Aaron (an E Dan) continue to train today.  Some of them now have their own children, GM Pitcher's grandchildren, that train too:  Justin (E Dan), Darian (E Dan), and Gups Jeremy, Annabella, and Kailyn.
His last promotion was March 4th, 2023 to 8th degree Black Belt, by Grand Master Greg Boliard-9th Dan (Dan #14763) and Founder of Mu Sa Kwan Tang Soo Do Federation, a world-wide organization with over 23 Member Schools.
GM Pitcher has successfully competed in many tournaments with 1st, 2nd, and 3rd place trophies and medals regularly adorning his walls. One of his favorite achievements was at the 8th World Championship International Tang Soo So Federation Tournament in Panama where he earned the Gold Medal in Black Belt Forms.
At the Battle of Detroit tournament in 2007, GM Dr. Ibraham Ahmed, together with the Mayor of Dearborn John O'Reilly, presented GM Pitcher with the Martial Arts Leadership Award.  GM Pitcher was one of the first-ever to be selected for this honor.  In 2002 GM Pitcher was voted Man of the Year, Tang Soo Do, by USA Martial Arts, and in 2008 received Instructor of the Year award and was inducted into the TSDMAS Hall of Fame.O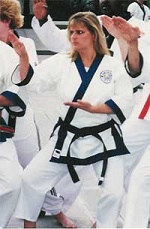 MASTER VALERIE WATSON, 6th degree Black Belt, began training with her son, Master TJ Norton, also a 6th degree Black Belt and now the owner and Head Instructor of World Class Institute of Martial Arts in Madison Heights, when TJ was only five. TJ and Valerie have both trained under GM Pitcher since they were 7 gups, and are the first students that GM Pitcher promoted to Master.
Master Watson, also a CPA, had spent 12 years with "Big 4″/international public accounting firms, but left her last position as Director of Tax in April, 2003 to teach karate and run the WCIMA and WCFMA full-time. She has been the director of several large-scale tournaments, and together with GM Pitcher had been Director of the Tang Soo Do Division for the esteemed Battle of Detroit tournament for many years. She was the recipient of the Most Valuable Black Belt Award with a former organization, and the first-ever to receive the Martial Arts Leadership Award, jointly presented by Grandmaster Ahmed and the Mayor of Dearborn, John O'Reilly, at the Battle of Detroit in March, 2007. In 2008 Master Watson was awarded Instructor of the Year, and in 2009 was inducted into the Tang Soo Do Martial Arts Society Hall of Fame. In October, 2012, Master Watson was inducted into the Midwest Women's Martial Arts Hall of Fame of Excellence.
GM Pitcher and Master Watson were awarded the first-ever School of the Month award by GM Zacker, and the Tang Soo Do Martial Arts Society. In 2008 WCIMA was voted The Best School. In 2009, WCIMA was voted Best Martial Arts School in the Channel 4 Vote for the Best contest without even knowing they were in the running! In 2010 GM Delford Fort honored GM Pitcher and Master Watson at his annual Spirit of Detroit Tournament, with an award for their commitment to the martial arts and community service.
A letter from a young boy hangs in the dojang addressed: "Dear Mr. and Mrs. Tang Soo Do:"  GM Pitcher and Master Watson say they dare to dream of the day they could actually live up to such an honor as "Mr. and Mrs. Tang Soo Do," but posted the letter nonetheless to remind themselves of the importance of what they do and how significantly Martial Arts affects the lives of others. The day they received that letter, GM Pitcher and Master Watson knew the hard work opening their school was worth it.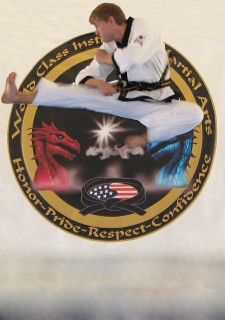 Master Norton began training in Tang Soo Do in 1996.  In 2020 he tested for 6th Degree Black Belt under Grand Master Pitcher, at World Class Institute of Martial Arts.  Master Norton began assisting in classes in 1998, and leading classes on his own by 2000.  As of 1-1-15, Master Norton is the Owner and Head Instructor of WCIMA in Madison Heights.
Throughout his years of training, Master Norton participated in numerous tournaments, including large-scale National and International tournaments in Michigan, Pennsylvania, Ohio, Indiana, Florida, and Panama.  He brought home trophies and medals in all areas and is most proud of the weapons, forms, and breaking medals as his favorite.  His signature pima kick break, low-block break, and brick-breaking routine are fan favorites! 
In addition to traditional Tang Soo Do training, Master Norton spent time with the renowned Bell Family learning Jiu Jitsu, which he has helped incorporate into the self defense curriculum as a Senior Member of the Technical Advisory Board with the World Class Federation of Martial Arts, which establishes and enforces the quality curriculum for its member schools. 
Master Norton also visited and trained in Korea and China on a martial arts trip to those countries in 2000. 
As a member of the WCIMA Demo team for many years, Master Norton brought excitement and amazing technical skill to the venues in which they performed, including the annual Livonia Spree on the Main Stage.
Master Norton still attends a weekly Masters Class with the other World Class Federation of Martial Arts Masters and Instructors, to continue to advance his knowledge and skills. M