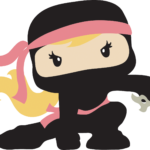 NINJA CAMP 2020, 2021, and 2022 cancelled due to COVID. 
Check out pictures on our facebook page at www.facebook.com/MasterValerieWatson
(Photos/Albums)
Are you ready to have the time of your life?!  Spend the DAY with the Black Belts and Ninjas!  Date to be determined, times are from from 8:30 a.m. Saturday to 8:30 p.m. Saturday.  Ninja Training, Lunch, Obstacle Course, Treasure Hunt, Zip Line, Extreme Slip N Slide, "Russian Omelette," Quackers, Cut the Watermelon with a Samurai Sword, Water Wars, campfire, roasting marshmallows, ninja attacks, and more. 
Rain or shine our activities continue, even if we have to move them indoors.
Registration is first-come, first-serve with a non-refundable deposit per person (unless we can fill your spot if you cancel.)  Parents and Non-Student friends are WELCOME TO ATTEND!
Fees:  includes all activities, all food, and all fun!  Only $60!  (Adult Leaders FREE but spots are limited.)
Activities include:
Lunch, Dinner, water, caffeine-free pop and juice boxes throughout the day.  Black Belts prepare the meals!
Watermelon cutting with REAL sword!
Campfire with roasted marshmallows
NINJA TRAINING:  shiriken throwing, blow darts, sai, tomahawk, sword cutting, nunchuko fights, sword battles, javelin throwing, archery, air soft pistols, flaming board breaking.
Teens/Adults air pellet gun defense class
Outdoor activities:  zip line, extreme slip n slide, treasure hunt, capture the flag, and more!
WATER GUN WAR!!! 
e-mail mastervaleriewatson@gmail.com with questions.  Register at the dojang! Complete registration form and sign, and pay at least two weeks before camp to guarantee your spot! 
Our Ninja Camp fills up! So don't wait! First-come, First-serve.